About Landscaping
Where do you begin? You know certain plants but not their names. You may like a plant, but have no idea if it will thrive in your yard or what it will cost. When you call Sullivan's, we will walk your property to determine how much sunlight you have or don't have. This helps us choose our plants. We also need to know the available space—vertical and horizontal—available in your landscape. Then we'll look at the slope and the soil to assess drainage. Plants feed through roots, which will only function if the soil has oxygen pathways. Without proper drainage and nutrients in the root zone, plants can't grow and then become stressed. Once weakened, plants become more susceptible to drought, invasive plant growth, insects and flooding.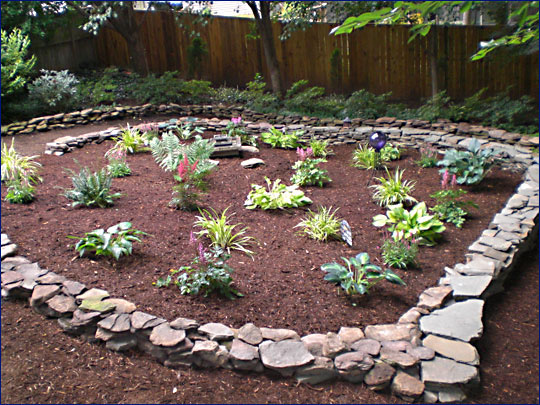 Landscapes are picturesque with a variety of sizes. Tall trees, medium-sized shrubs and scattered ground covers provide a mix of aesthetic shapes. Of equal importance is the leaf itself. We strive for variegation, serration, texture and undulation on the leaf to enhance foliage differentiation in the garden.
Repetition in the landscape enhances the dramatics of a plant. Seven of this, five of this and three of that grab the eye, even as it jumps about the landscape. Remember, the eye fixates on weak spots—trash receptacle, downspout, air conditioning unit, inside/outside corners, windows and doors without accent plantings. Avoid these with plant differentiation in size and shape, leaf color, flower color and those accent plants called ground covers.
Don't forget about 12-month interest. If your landscape is anchored with deciduous plantings, you'll have "nothing but sticks" from late fall to early spring. Evergreens can't offer flowers but their year-long greenery and artistic shapes keep the garden lush during plant dormancy.
Confused by all this? Bored? Too busy to care? Give Sullivan's a call and we'll sort it all out for you.